Silhouette Writing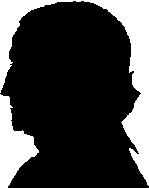 Submitted by: Bill
I really great writing activity that worked really well in my classroom were student silhouettes. Using an overhead I trace their head onto a piece of white paper. They then set it black construction paper. Inside the silhouette they create a poem by using one of the below formats . . .
I seem to be . . .
I really am . . .
or
I am good at . . .
I am not so good at . . .
This a great way to get to know your students without "prying" into their lives.